Junior Racing Development
The SSCRA's Junior Racing Development Program is designed to teach youth ages 8-17 the fundamentals of racing beginning with car control, racing lines, car maintenance, operation of a manual vehicle, and track safety. The final goal of this program is for youth to develop the skills needed to compete in the Bandolero (Ages 8-14), Ministock, Street Stock, or Sask. Legend (ages 14+) divisions that race in Saskatoon and across North America.
Many graduates of this program are currently racing at the Sutherland Automotive Speedway in Saskatoon and on a national stage.
The Junior Racing Development Program began in 2010 when we acquired a 1989 Honda CRX dual-seat training car. Juniors learned the basics in automotive, including changing tires, oil changes, and the usage of basic safety equipment such as jacks and jack stands.
By 2011, Junior Racing Days was already seeing immense growth in interest and participation. So, in 2012, we added two more junior racing cars to the program – a Ministock and a Thunderstock. Today, we have a roster of two Pro Trucks, a Street Stock, and a Ministock.
Stock Car Racing | Age 8-17
This program teaches motor vehicle and racetrack safety, car control, and operation of a manual vehicle while encouraging team building, confidence, and comradery, all in a controlled environment.
Climb into one of our two-seat racecars with a professional racecar driver for a one-on-one training experience (ages 8-11 ride-along only)!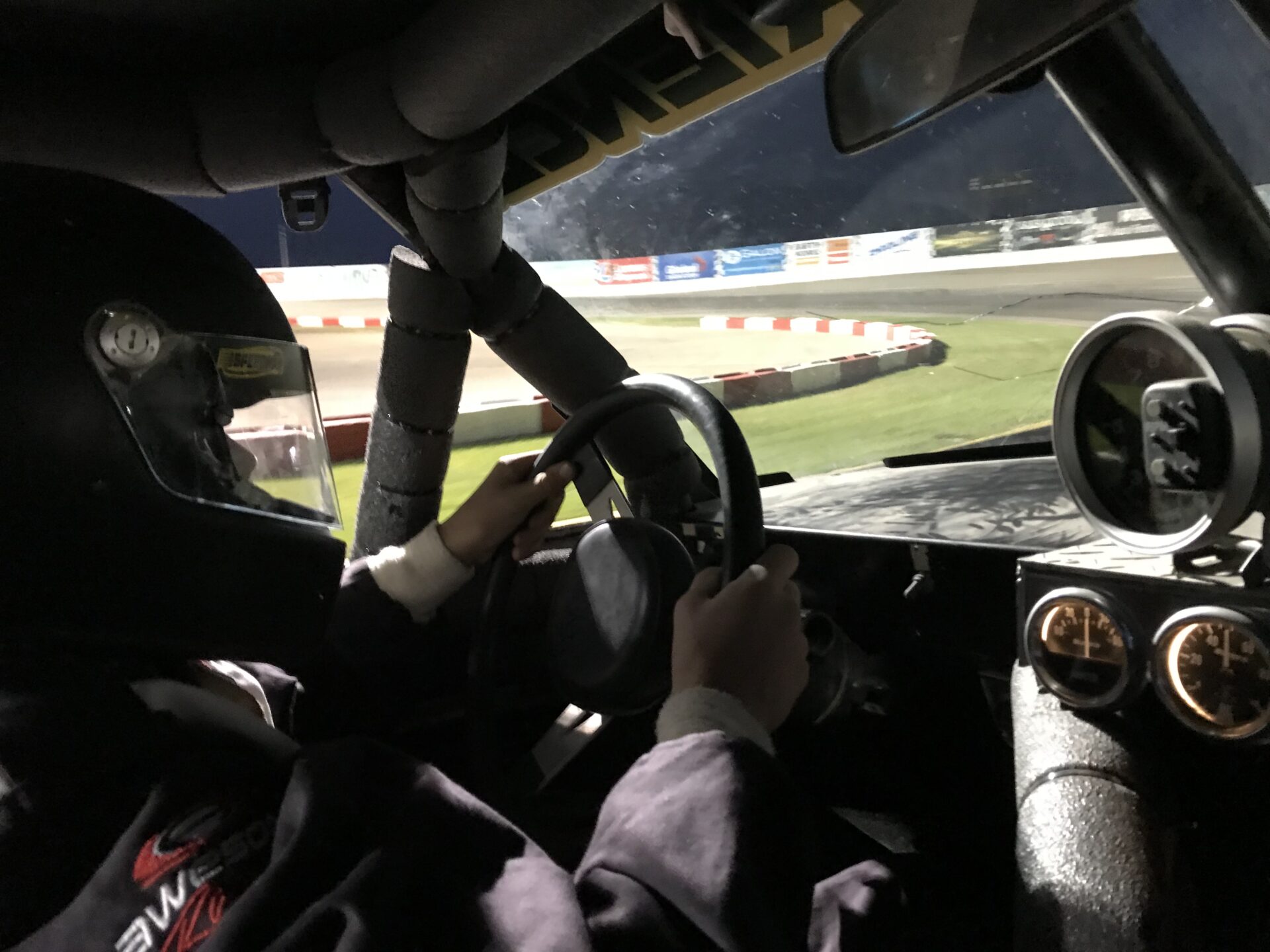 Sign up today!
With a $25 Annual Junior Membership, you're eligible to participate in all Junior Racing Development Days.
STEP 1
Have both parents/legal guardians sign the junior membership waiver. The waiver is available by contacting our experience team at
STEP 2
Purchase the $25 Junior Membership. Cash only at the track, or pre-pay by credit card over the phone at (306) 956-3212.
STEP 3
Participate in as many Junior Racing Development Days as you'd like!
2022 Schedule
**Pending SHA COVID 19 Restrictions**
Early Season Session
June 23rd, 24th & 26th
Late Season Session
August 24th, 25th & 28th
Dakota Runes Racing | 18 and up
The Dakota Dunes Racing experience is for those who want to get behind the wheel and see if they have what it takes to race. This is your opportunity to take a 10-lap ride along with a professional racecar driver in one of our dual seat cars, followed by 10 laps with you at the wheel with our pro riding with you.
Choose your ride:
– Street Stock; V8 engine and rear wheel drive
– Pro Truck; V8 engine and rear wheel drive
– Fiber Glass body car; speedy and lightweight
– Ministock; 4-cylinder, front wheel drive
Be sure to bring water, snacks, sunblock, a hat, and bug spray with you, and to dress for the weather.
CLOSED-TOE SHOES ARE REQUIRED FOR THOSE IN THE PIT AREA.
These are weather-dependent events, in the event of a cancellation a notice will be posted on the website.
2022 Schedule
*Weather Permitting*
**Subject to change due to SHA COVID 19 Restrictions**
Individual Bookings
May 29th, June 5th and 19th, July 3rd and 17th, August 7th and 21st, September 11th. These include Ride and Drive and Ride Along experiences.
Ride and Drive
$150.00 per session, per car
Includes a 10-lap ride along followed by 10 laps behind the wheel.
Your choice of available Mini Stock, Street Stock, or Pro Truck race vehicle.
Ride Along
$60.00
Includes a 10 lap ride along
Your choice of available Mini Stock, Street Stock, or Pro Truck race vehicle
Price is per session, per car
Book Today!
To book your race experience or for more information please contact raceexperience@sasktel.net.
Please Note
You must book ahead to secure your spot. FULL PAYMENT is required to secure a booking. Race Experience days fill up quickly, so be sure to book in advance to ensure you get a spot.
Get behind the wheel of your own vehicle and prove how fast you can really go! You're permitted to timed 2-lap runs, as many times as the schedule allows. You must be the registered owner of the vehicle or have the owner present to participate.
A fee of $25.00 is required to enter the track.
2022 test drives are scheduled for June 17th and August 26th.