Bandoleros – Sponsored by Schira Subways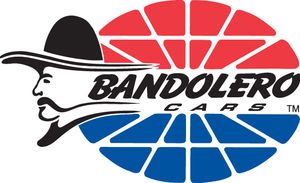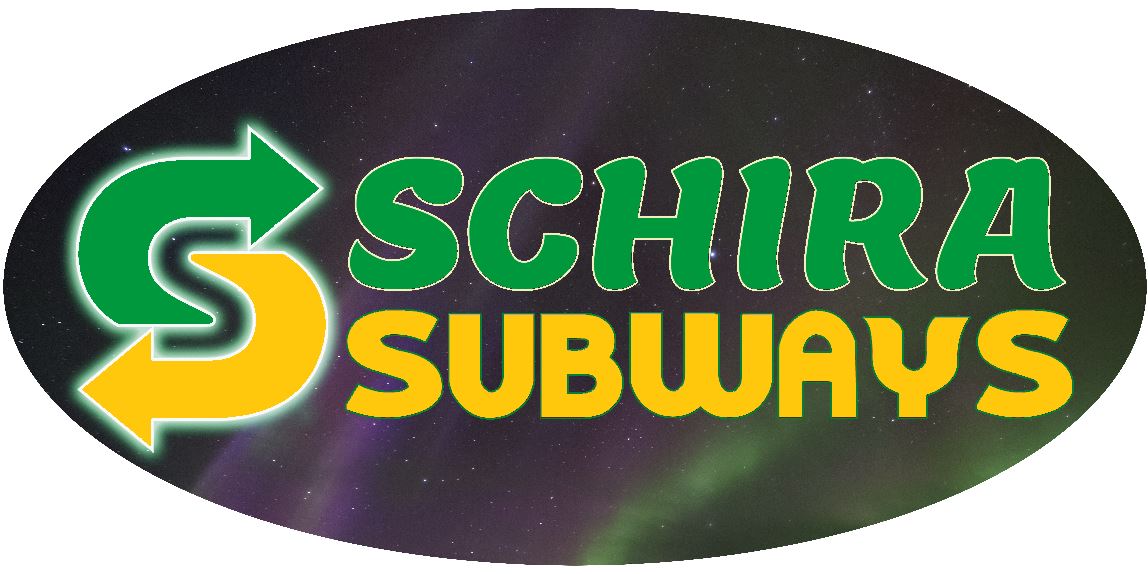 Ages 8-14
Using the same magic formula that made the Legends Cars the most mass-produced competition car in history, officials of the USLCI have introduced the Bandolero Car, sponsored by Schira Subways. The Bandolero Car is a turnkey, spec-series racer designed for drivers as young as eight years old and the young-at-heart at any age.
Read More
The Bandolero Car serves as a steppingstone between a Midget or kart and is a race car that is simple for everybody to use. The driver operates a Bandolero in a similar manner to a kart with left foot braking. The car is equipped with a centrifugal clutch, so the driver does not have to shift gears.
The Bandolero Car's motivation is provided by a thumping Briggs and Stratton 570cc Vanguard engine mounted behind the driver. Small modifications have been made to the engine to bring the once 20 HP stock engine to nearly 30 HP.
Mini Stock – Sponsored by Golf's Car Wash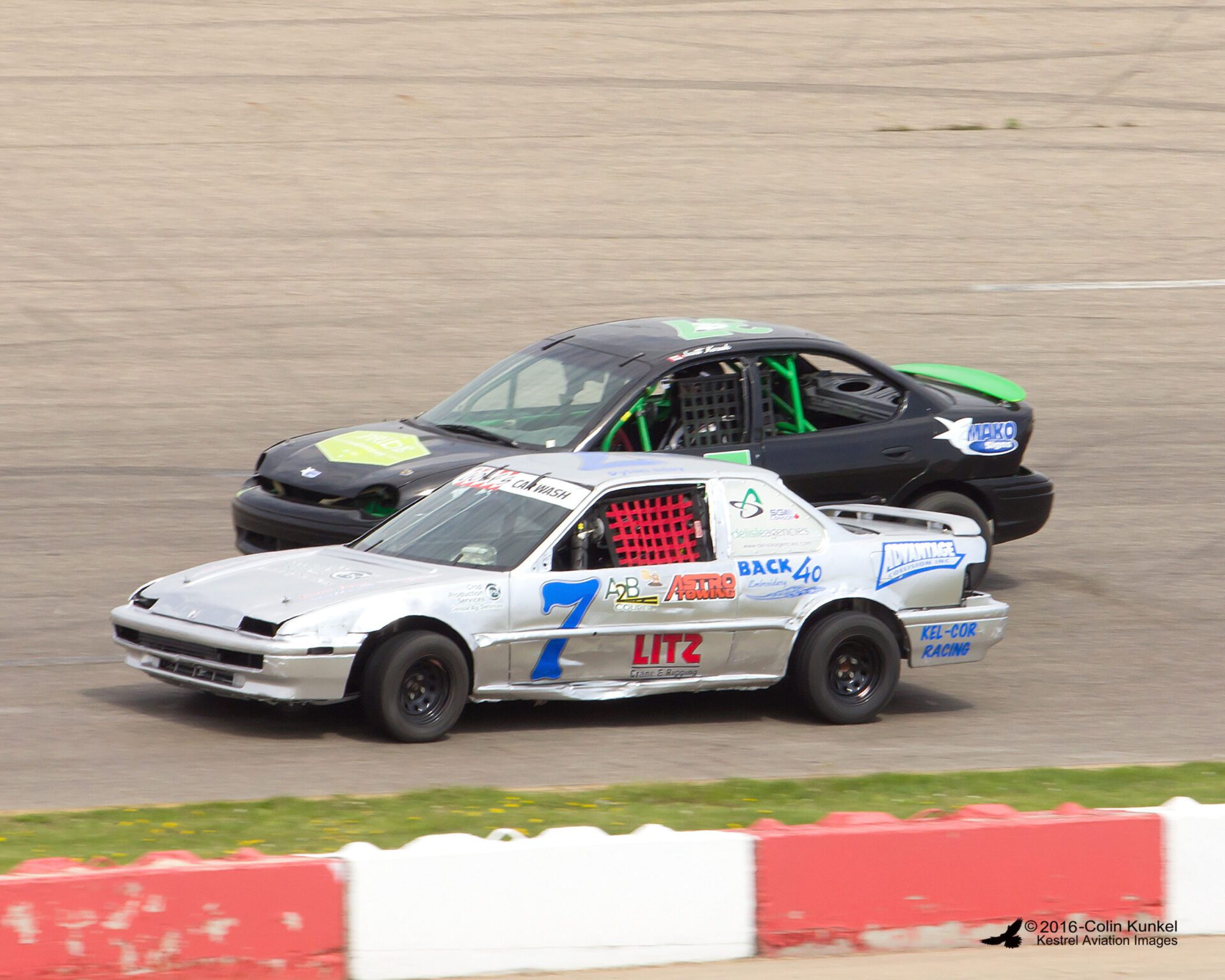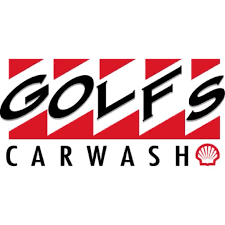 The Sport Compact Mini Stock Division (also known as Mini Stocks), sponsored by Golfs Car Wash, are designed as an entry level division.
The rules and restrictions are designed to allow an amateur to enter and gain experience in competitive racing using the style of car driven and modifications performed by sport compact enthusiasts.
Read More
By limiting the cars to stock pieces and components, the cost of the division is kept as low as possible. There are several cars in this division that were street-driven cars and that have had the interior and windows removed, roll cage and safety components added, and now run very competitively on the racetrack.
Street Stock – Sponsored by Golf's Car Wash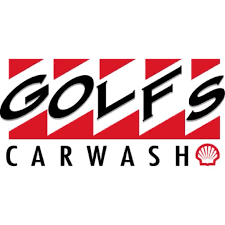 The Street Stock Division, sponsored by Golfs Car Wash, is one of the most common divisions in North America with almost every track having some version of a Street Stock. Based originally on a domestic car with a minimum wheelbase of 101-inches, the favourites are Camaros, Firebirds, and Monte Carlos with full roll cage and driver safety systems.
Read More
A Street Stock chassis is limited to what was originally offered with the car from the factory and the suspension to family line (GM to GM etc.) components that fit without modifications. While these cars originally started life as street-driven automobiles, they are lightened by cutting away all the inner body structures and have enough adjustments to make them handle very well.
Limitations on engines and performance parts help keep big money from dominating but put it in the hands of the drivers and crew, making Street Stock some of the most competitive racing seen anywhere.
2022 Street Stock Drivers
Pro Truck – Sponsored by HeadRush Tattoo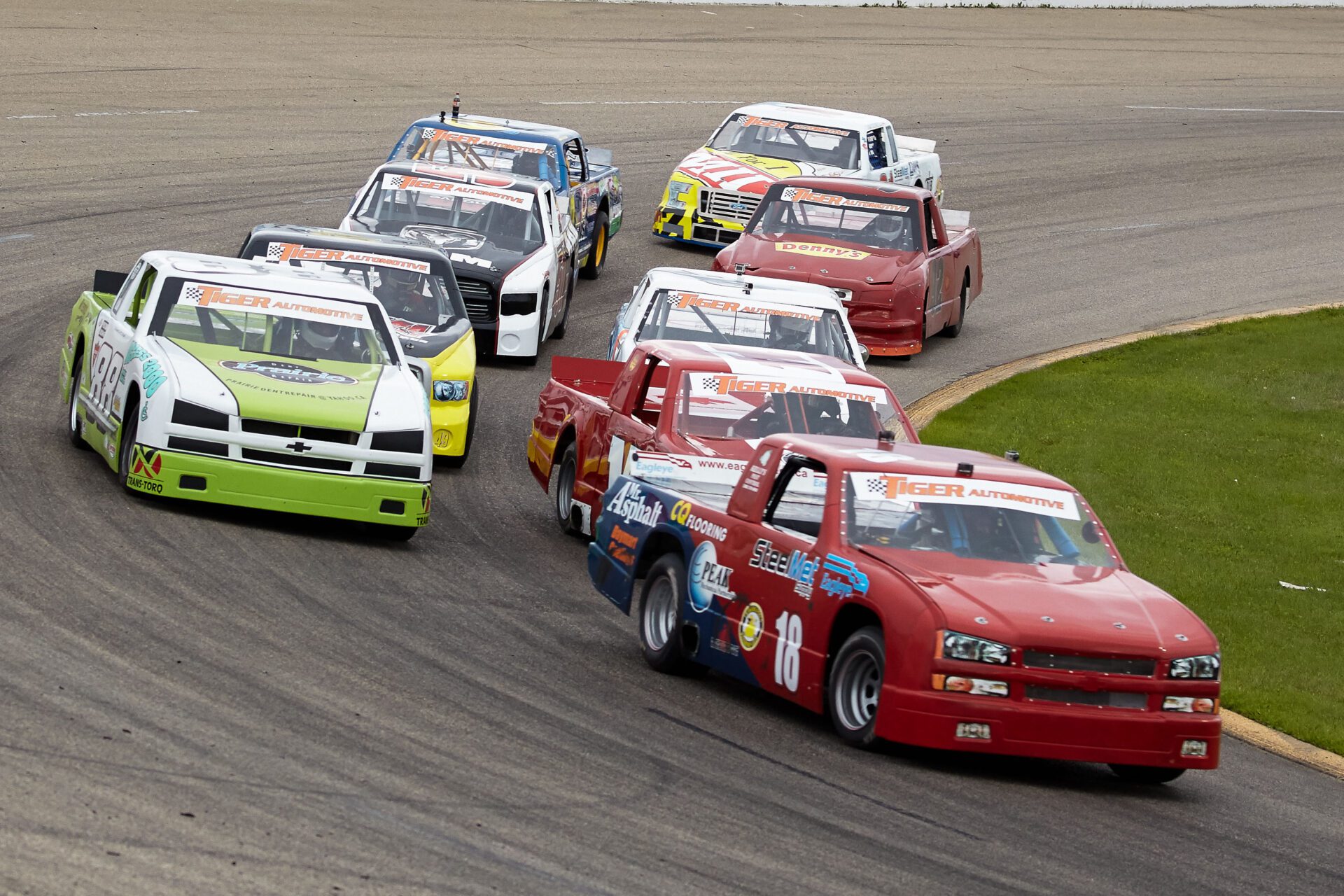 The Pro Truck Division, sponsored by Tiger Automotive, was a new division in 2006. These trucks do not start life as a factory pickup truck, but are built as racing vehicles with some limitations on them to help reduce operating costs.
Read More
A Pro Truck chassis and suspension components are utilized from a GM metric chassis. The body of a Pro Truck is an aftermarket fiberglass racing reproduction of new style Ford, Chevrolet, Dodge, or Toyota full-size pickup trucks. The wheelbase is a 108-inch car chassis with modifications allowed for adjustability and performance such as weight jacks.
Engines are limited to a low compression cast iron 350 CID but are allowed aftermarket two-barrel carburetors and tubular headers.
The Pro Truck Division will be running an American Racer tire for the 2021 season. This tire is an 8-inch grooved racing slick that will be mounted on an 8-inch-wide racing wheel.
Sportsman – Sponsored by Shell V-Power Nitro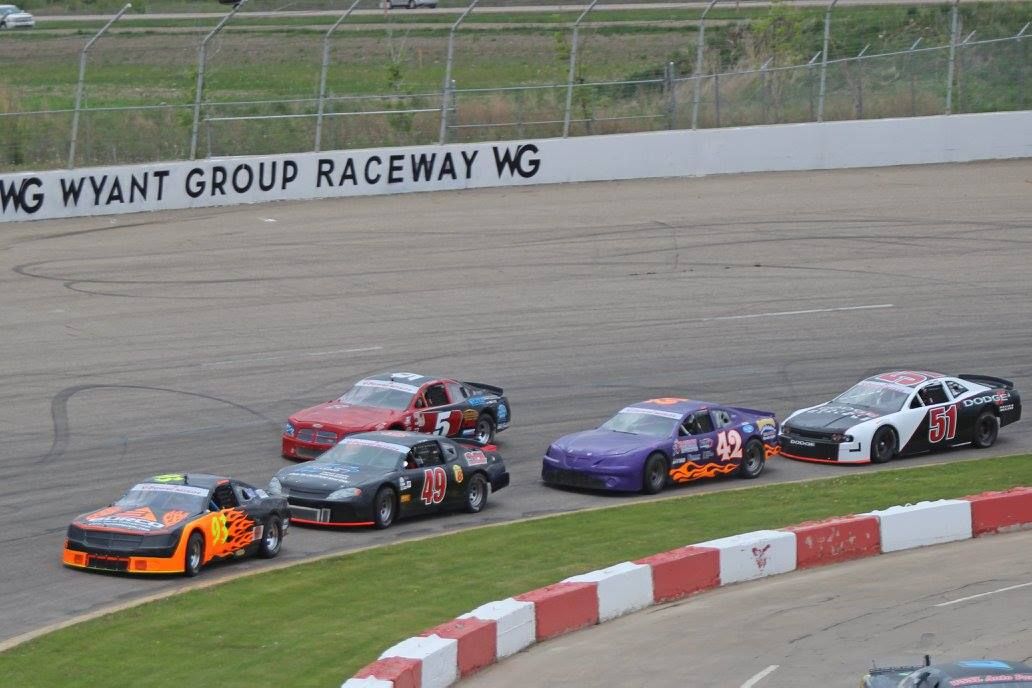 The Sportsman division, sponsored by Shell V-Power Nitro, is comprised of former Cascar Western and Cascar Sportsman series cars.
The cars are based upon a perimeter style race car chassis. It incorporates fiberglass body styles modeled after the NASCAR Canadian Tire Series which are meant to closely resemble production cars.
Legends– Sponsored by Earth Works Equipment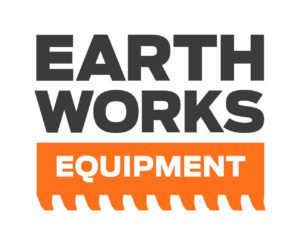 Legends racecars are 5/8th scale versions of the historic NASCAR modified cars, driven during the 1930s and 1940s. Introduced in 1992 as a fun, safe, and affordable class of racing, Legends has now grown into one of the most popular classes of racing in North America. In fact, there are now over 4,000 Legends Racecars located around the world.
Read More
Competitors are governed by a strict set of rules, enforced at every race by INEX officials. This keeps the competition fair and maintains an inexpensive form of racing. Each car is relatively the same, with the only changes allowed being the car setup, which also must be within strict tolerances.
There are five fiberglass body styles to choose from ('34 Chevy Coupe, '34 Ford Coupe, '34 Ford Sedan, '37 Chevy Sedan, or the '37 Dodge Sedan), which come from the factory in-stock colors of white or black. However, owners/drivers can customize the appearance of their Legend racecar by applying their own custom paint and/or graphics.
Each car consists of a full tubular roll cage, which ensures the highest level of safety. The high-quality front disc and rear drum brakes, rack and pinion steering, and coil-over-shock suspension on all four corners ensure that each car can handle high cornering speeds.
Each car is driven by a 1250cc Yamaha motorcycle engine that outputs 122 HP. Although this sounds small, combining this power with a car that only weighs 1100lbs allows the car to reach a top speed of 130 MPH.
Drivers are split into four different divisions depending on their age and experience:
Young Lions Division: This class is for young drivers between the age of 14 and 16 (12-16 in the USA).
Semi-Pro Division: This is the entry-level class for those who are either new to racing or new to Legends racing.
Pro Division: This is the class for the experienced Legends racer, who has proven his/herself in the semi-pro division. Typically, those who are in the Pro division have experienced great success already in one of the other divisions of Legends.
Masters Division: This is a class for drivers over 40 years of age. However, don't be surprised if there are also a few drivers over 40 showing the young guys how it's done in the pro division.
All divisions often race together; however, the points from each race are kept separate for each division. For more information about the Sask. Legends Series and their drivers, visit www.legendcars.ca.
Western Speed Association PLM (PRO Late Model) – Sponsored by Prairie Moving & Installation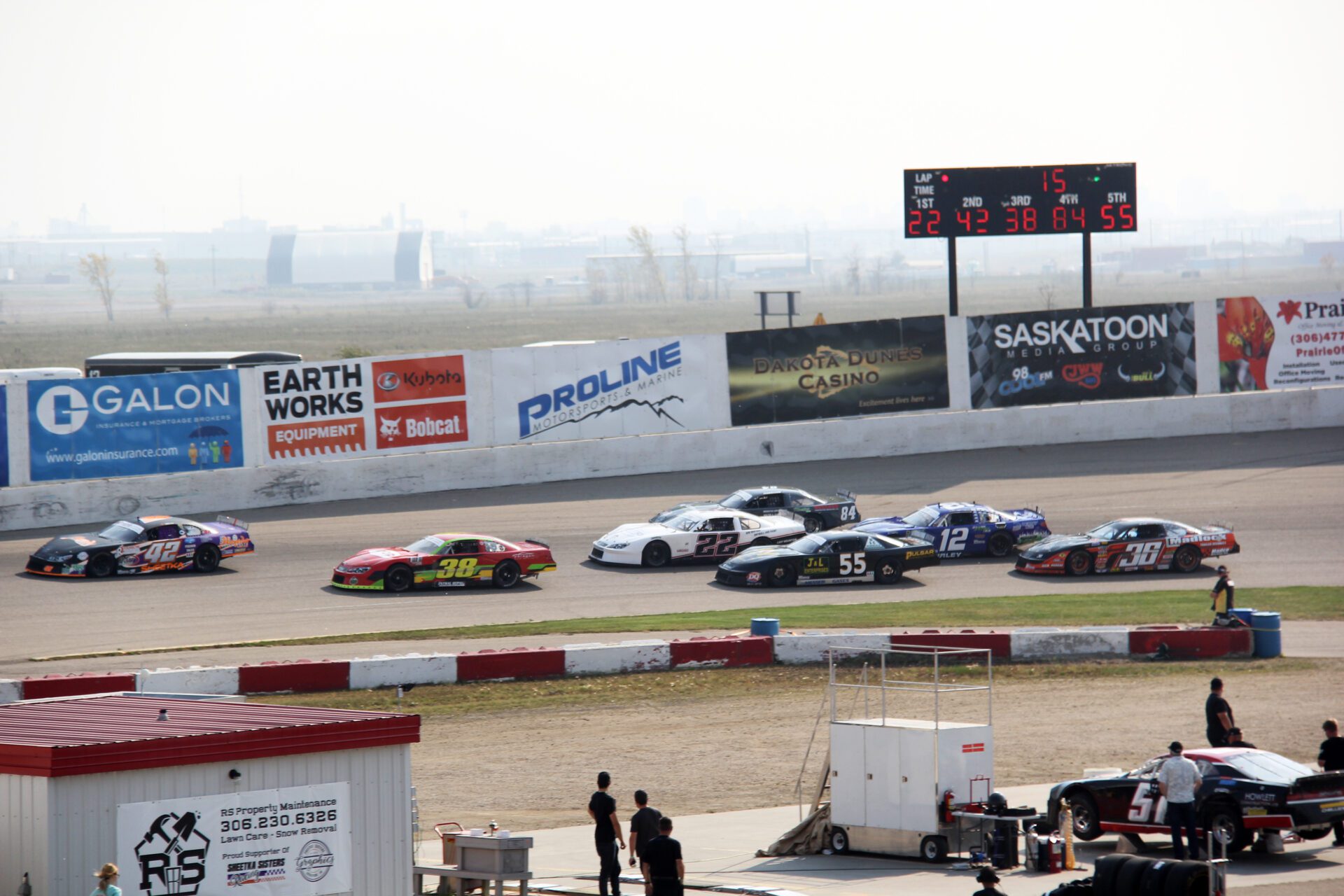 Sutherland Automotive Speedway's Pro Late Model Division is a fairly common racing division in North America. Different versions of SLMs can be found at many tracks, and these cars are similar to the NASCAR regional series and Pro Cup Series cars seen on T.V.
Read More
Super Late Models are the fastest cars at Sutherland Automotive Speedway and use a modern or domestic late model aftermarket fiberglass body on a fully fabricated tubular racing chassis with complete driver safety systems. Suspension systems are designed and fabricated completely for racing with coil-over shocks and rack and pinion steering, etc.
To help equal competition, SLMs are allowed to run an unmodified GM racing crate engine with aluminum heads and roller camshaft, a 650 CFM four-barrel carburetor, and racing headers.
2022 Pro Late Model Drivers