History Wall
The History Wall will be 16 plaques wide by 16 plaques high. For ease of viewing, we have broken the wall up into two components – the left side and right side.
If you have photos that you would like to include on the History Wall, email them to Heather at ebyracing@shaw.ca.
Sutherland Automotive Speedway » History Wall
Order Form
If you wish to purchase a plaque on the history wall, please download and complete the form below. Completed forms must be faxed to or dropped off at our office.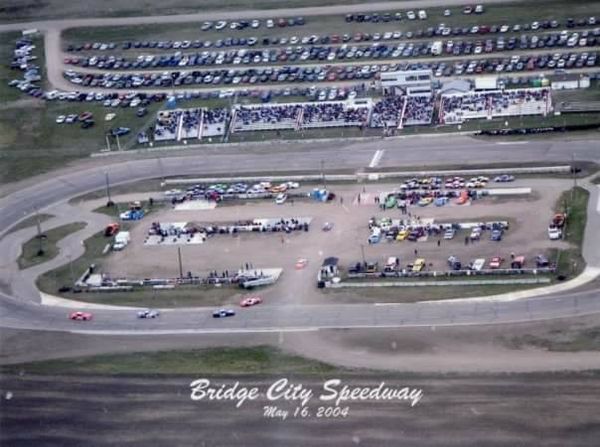 Left Side of the History Wall
In Memory of
WES SKAKUN
#5 Street Stock Driver
HEATHER SKAKUN
#5 Street Stock
Pit Crew
WALLY EBY
#3 Street Stock
Competitor
LIZ EBY
#3 Street Stock
Pit Crew
KEVIN EBY
#9 Street Stock
Driver
LEN CARRIERE
#6 Super Late Model
Driver
JERRY HORSLEY
Life Time Member
Driver
LLOYD COOPER
Driver #70
8th St Motordrome
In Memory of
RICK FREDRICKSON
#22 CAT
STAN CARON
#18 Street Stock
Driver
DARWIN EBY
D Class
Driver
VERNON 'SHARPIE' EBY
Mechanic
–
GERALD 'EBB' EBY
# Street Stock
Pit Crew
GARTH HAZLEHURST
6 Time Champion
#22 Super Stock
In Memory of
STAN HAZLEHURST
#22 Crew Chief
DOUG COOPER
Track Official
Life Time Member
In Memory of
TERRY (SPIKE) MAZUR
#18 Mechanic BCS
CITY CENTRE BINGO
Proud Sponsor of
Stan Caron Motorsports
RON EBY
#3 Street Stock
Driver
In Memory of
ALMA O'BRIEN (EBY)
#1 Fan and Mom
In Memory of
TERRY EBY
Fan
JEANNINE BROWN
Secretary & Treasurer
Co-owner #39 Super Stock
EARL BROWN
P Pres/Long-Time Member
Owner #39 Super Stock
OSCAR OLSON
Car #17,40,41,42,75
61-79 Motordrome/BCS
In Memory of
WAYNE TAYLOR
#37 Thunder
DOUG PAULSEN
Proud Sponsor of
Stan Caron Motorsports
In Memory of
KOREEN EBY
Powder Puff Driver #3
LINDA HODGSON (EBY)
Powder Puff Driver
Club Volunteer
WES HODGSON
Pit Steward
Club Volunteer
BRENT OLSON
#14 SLM Crew/SSCRA Ex
1,000+ Hrs blding ACMS
KEN HOLMES
Driver 1962-1967
#55 Square Wheel Special
MORT TREMEER
Sponsor & Crew Member
#10,40,41,42 Motordrome
NORM McLEOD
Track Welder
Bridge City Speedway
MIKE GUSTUS
#66 Super Stock
Driver
LISA CHAPMAN (EBY)
#3 Street Stock
Fan
MIKE EBY
#3 Street Stock
Driver
JONATHON EBY
#3 Street Stock
Pit Crew
TRENT SEIDEL
#70 Super Late Model
Driver
KEN HOLMES 1918-2000
Crew Chief 1962-1967
#55 Square Wheel Special
In Memory of
JOHN RIGGS Owner #75
8th Street Motordrome
BARRY STEFANIUK
#81 Thunder
Led Pedal Racing
STEVE WOJCICHOWSKI
#66 Super Stock


Mechanic

SSCRA Membership Thanks
LARRY FLETCHER
LB Signs
MARIE TYMCHATYN
Fan of
Bridge City Speedway
DEBBIE TYMCHATYN
#1 Fan
Bridge City Speedway
BOB KORPAN
In-field Tow Truck Driver
Bridge City Speedway
WINSTON SISETKI
Pit Crew 1962-1967
#55 Square Wheel Special
BRAD CROSS
#88 Thunder/Enduro
#84 Street, Driver/Crew Chief
BRIDGE CITY COLLISION
Proud Sponsor of
Stan Caron Motorsports
FLAMAN TRAILER SALES
Proud Sponsor of
Stan Caron Motorsports
STEVE SMITH
Mini Stock Champ 1974
Pit Crew #55 Super Stock
MARTHA LOEWEN
Fan & Club Volunteer
DAVID KIRTON
Track Announcer
1987-2003 BCS
REG LINDGREN
Driver & Sponsor
Motordrome, BCS, ACMS
PATRICK 'POPS' HOPE
Official Pace Car Driver
Crew Chief
In Memory of
TOM BROOKS
#8 Driver (1950-1960's)
RYAN FREDRICKSON
#22 Thunder
Rookie Year (2008)
LEN PETERS
1980 Claimer Champion
#71 Super Stock
CURTIS MOORE
#17 Thunder
2008-2009
CHRIS UTIGARD
#16, #17 and #18
Bridge City Speedway
KIRK UTIGARD
#16, #17 and #18
Bridge City Speedway
BILL ZUBRECKI
#18
All Classes
RAY UTIGARD
#19 Pro Truck, Street
Thunder and SLM
RON UTIGARD
#27 the Pink Lady
8th Street Motordome
In Memory Of
JOHN REGIER
#31 Claimer Champ (1982)

JIM CHERRY

1968 Rookie of the Year

1969 Champion #76

Eric Hubert

Spare Maniac

1985-Present

–
Open Spot
–
–
Open Spot
–
–
Open Spot
–
–
Open Spot
–
–
Open Spot
–
–
Open Spot
–
–
Open Spot
–
–
Open Spot
–
–
Open Spot
–
–
Open Spot
–
–
Open Spot
–
–
Open Spot
–
–
Open Spot
–
–
Open Spot
–
–
Open Spot
–
–
Open Spot
–
–
Open Spot
–
–
Open Spot
–
–
Open Spot
–
–
Open Spot
–
–
Open Spot
–
–
Open Spot
–
–
Open Spot
–
–
Open Spot
–
–
Open Spot
–
–
Open Spot
–
–
Open Spot
–
–
Open Spot
–
–
Open Spot
–
–
Open Spot
–
–
Open Spot
–
–
Open Spot
–
–
Open Spot
–
–
Open Spot
–
–
Open Spot
–
–
Open Spot
–
–
Open Spot
–
–
Open Spot
–
–
Open Spot
–
–
Open Spot
–
–
Open Spot
–
–
Open Spot
–
–
Open Spot
–
–
Open Spot
–
–
Open Spot
–
–
Open Spot
–
–
Open Spot
–
–
Open Spot
–
–
Open Spot
–
–
Open Spot
–
–
Open Spot
–
–
Open Spot
–
–
Open Spot
–
–
Open Spot
–
–
Open Spot
–
–
Open Spot
–
–
Open Spot
–
–
Open Spot
–
–
Open Spot
–
–
Open Spot
–
–
Open Spot
–
Right Side of the History Wall
AL BAKKE
#80 – 5 Time President
Life Time Member
LAWRENCE NUGENT
Driver
–
TRUDY SAWATZKY
#11 Street Stock
Driver
GLENN SAWATZKY
#11 Street Stock
Pit Crew
BRIEN WILSON
#37 Driver, Past Pres
Life TIme Member
WADE WOHLFORD
#14 Street Stock
Driver
RON CREELMAN
#1 & #15 Street Stock
Driver
BOB TROST
#74 Driver
8th St Motordrome
PHYLLIS BAKKE
Stockette Club
Bridge City Speedway
LEWIS NUGENT
Past President
–
KEN BARTESKI
K3 Kensulting Inc.
Business Advisor
SANDY WILSON
Past Sec/Treasurer
1975-1988
CLIFF WILSON
#26 Super Stock
Driver
JOHN P. TURANICH
–
In Memory of
JOHN TURANICH, SR
–
–
JOHN F. TURANICH
–
In Memory of
MIKE TARNOWSKI
#80 Mechanic 13 Yrs
RON JUST
P.President/Announcer
Driver/Pace Car Driver
FRANK MORRISON
#43 Driver
Motordrome
LYLE HELGASON
In-Field Tow Truck
Drvier – BCS
DWIGHT NORMAN
Car #1 Super Stock
Drvier
In Memory of
RUSSEL ALLAWAY
Car #1 Super Stock/Pit Crew
–
CHRIS BROOKMAN (GOURLAY)
ROGER McCONNELL
–
BOB LYON
Flagman 63-65
8th St Motordrome
In Memory of
GEORGE FREY
P.Pres/Builder/Crew Chief
DONNA HILL
Top Lady Driver #12
8th Street Motordrome
–
BRUCE TROST
–
JIM TURNER
Car #1 Super Stock
Pit Crew
RUSTY MORRIS
Car #1 Super Stock
Crew Chief
–
SHERRY L. TURANICH
–
TOM SHIRLEY
#64 Driver
1960-1967 Motordrome
RICK ELLIOTT
Official Flagman
BCS / ACMS
In Memory of
HELEN FREY
Co-Founder Stockette Club
NORM HILL
#33 Driver
Motordrome
Loyal Member and Racer
DAVE BONE
#38 Super Late Model
In Memory of
JIM BONE
#38 Super Late Model
BRYCE MANN
#24 Driver
BCS / Motodrome NASCAR Qualifier
BARRY PIPPIN
#71 Driver
8th Street Motordrome
RALPH BROOKS
Sask Stock Car Champion
#9 Driver – 1957
In Memory of
CAREY McKENZIE-CROSS
#88 Thunder/Enduro
PAT CROSS
#88 Thunder/Enduro
Driver/Vice President
GARY HICKIE
#88 Thunder/#84 Street
Pit Crew/Car Builder
Proud Member
SHERRY BONE
#38 Super Late Model
Dedicated Fan
OLIVE BONE
#38 Super Late Model
TUN HARMS
Past President
#10 Driver
BRIAN PATTERSON
Pit Crew
#18 Street/#30 Super Stock
H.J. (Bud) WILD
#18 Street Stock
Mechanic
In Memory of
JOHN HAYES
Mechanic #14/23/81
PHIL KUCHER
#33 Super Stock
Driver/Car Builder
In Memory of
ART GRAFF
#1 Fan
KEITH WALL
#19 Pro Truck
Crew Chief
GORDIE MERRITT
#7 Driver & Crew Chief
All Four Tracks
JEFF REIMER
#5 Super Late Model
Driver
LORRAINE CARRIERE
Stockette of the Year
(    )

KELVIN MOORE
#12 Claimer Class

Bridge City Speedway

HAROLD EDWARDS
#3 CASCAR Sportsman
Bridge City Speedway
CURTIS HOUBEN (Utigard)
Thunder Stock
#11 and #81
ERIC HAMNETT
Crew Chief
Thunder #22

SCOTT WILLIAMS
#96-Super Stock (BCS)

#33-Pro Truck (ACMS)

TERRY JOUBERT
#19 Driver
1992 Thunder Stock Champion
CRAIG MATLOCK
DRIVER #47
CASCAR (BCS)
KEVIN TARDIJ
#18-#33 Pro Truck
Stan Caron Motor Sports
ROGER CARRIERE
#88 Super Stock
Driver
–
Open Spot
–
–
Open Spot
–
–
Open Spot
–
–
Open Spot
–
–
Open Spot
–
–
Open Spot
–
–
Open Spot
–
–
Open Spot
–
–
Open Spot
–
–
Open Spot
–
–
Open Spot
–
–
Open Spot
–
–
Open Spot
–
–
Open Spot
–
–
Open Spot
–
–
Open Spot
–
–
Open Spot
–
–
Open Spot
–
–
Open Spot
–
–
Open Spot
–
–
Open Spot
–
–
Open Spot
–
–
Open Spot
–
–
Open Spot
–
–
Open Spot
–
–
Open Spot
–
–
Open Spot
–
–
Open Spot
–
–
Open Spot
–
–
Open Spot
–
–
Open Spot
–
–
Open Spot
–
–
Open Spot
–
–
Open Spot
–
–
Open Spot
–
–
Open Spot
–
–
Open Spot
–
–
Open Spot
–
–
Open Spot
–
–
Open Spot
–
–
Open Spot
–
–
Open Spot
–
–
Open Spot
–
–
Open Spot
–
–
Open Spot
–
–
Open Spot
–
–
Open Spot
–
–
Open Spot
–
–
Open Spot
–
–
Open Spot
–
–
Open Spot
–
–
Open Spot
–
–
Open Spot
–
–
Open Spot
–
–
Open Spot
–
–
Open Spot
–
–
Open Spot
–
–
Open Spot
–
–
Open Spot
–
–
Open Spot
–
–
Open Spot
–
–
Open Spot
–
–
Open Spot
–
–
Open Spot
–